Restorative Yoga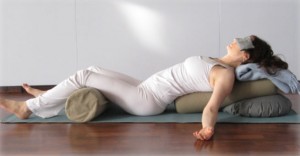 Take an active role in your journey to healing. The soothing modalities of Restorative Yoga with Reiki and Hot Stones will effectively take away tension and stress, enhance your immune function and will leave you feeling refreshed, revitalized and rebalanced in body, mind and spirit. This practise is about slowing down and opening the body through passive stretching.
A deeply soothing inward form of yoga where the body is placed in highly therapeutic postures that are supported with soft bolsters, blocks and cozy blankets while the mind is invited to slow down. As you relax in the poses, heated basalt stones are gently placed on the body to help release deeply held tension in the body.
Prepare yourself for deep relaxation. A meditative class ideal for all levels, including beginners, seniors or people recovering from an injury or struggling with anxiety or stress.
Pranayama breathing exercises are weaved throughout the class cultivating a sense of well being and deep relaxation Great for all levels